Cosalt Head Office GRIMSBY, United Kingdom

Cosalt has a proud history of providing vital services and bespoke life saving equipment. Our heritage, coupled with the experience and expertise of our dedicated workforce, means we are passionate about the quality, innovation and excellence of our service in all sectors of Marine and Industrial Safety. Today we are the leading Safety and Workwear company in the Industrial, Marine and Offshore Oil & Gas markets. Our Lifting, Inspection and Testing division has seen substantial growth. We are absolutely committed to ensuring the safety of people exposed to hostile environments – on land and at sea - through the manufacture, supply and through-life servicing of our diverse range of critical safety equipment.
Presentation: www.cosalt.equip4ship.com
Address: United Kingdom, GRIMSBY, DN35 0SN Origin 4, Genesis Park, Origin Way
Contact person: e-mail, website
Phone: +(44 1472) 504504
Fax: +(44 1472) 504399
unselect all/select all
You have 0 products selected
Steel Wire Rope
Send enquiry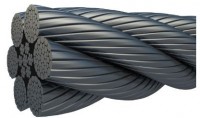 Simply navigate through the menu on the right hand side of the screen to find out more information on the products we offer. Alternatively, contact us with your specific requirements.